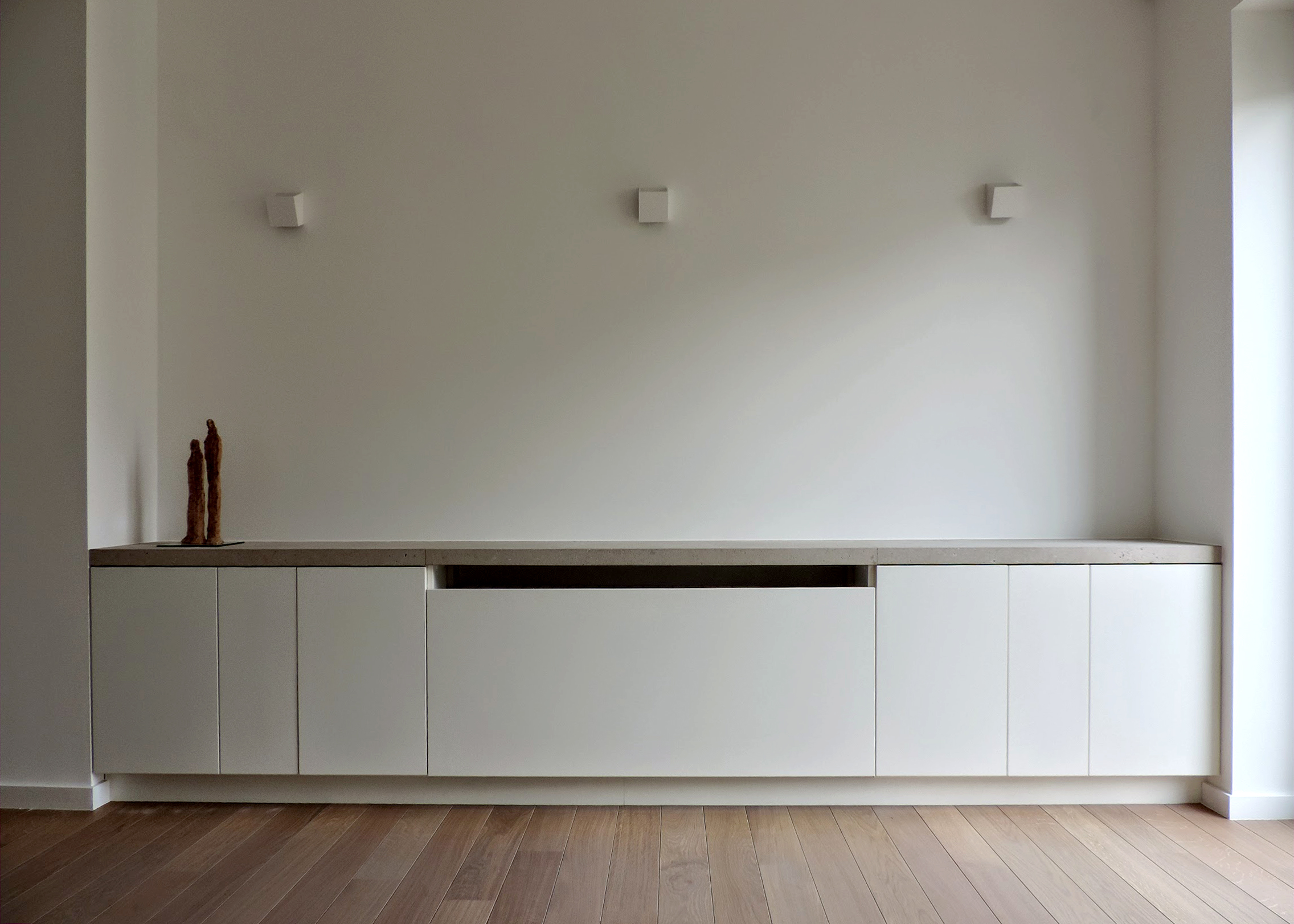 Project Vanderveeren - Roos
by B-style
Material:
HPL laminate, matt white 18 mm finished with PIETRA DEI MEDICI natural stone rounded off with 50 mm mitre edge, removable panel with concealed compartments
Project Vanderveeren - Roos
Refurbishment of a townhouse/mansion in Leuven 
Architect: (Full) Scale Architecten 
Various pieces of furniture were produced for this townhouse in Leuven providing the crowning glory to the refurbishment of this dwelling.
The aim was to strike a respectful balance between the historical features already present in the house, while creating a contemporary design. 
To do so, the architect proposed working with natural stone as a reference to the stone windowsills and the existing fireplace furniture in the house. 
Kitchen
The kitchen furniture was designed in consultation with the client to be very minimalistic. To contrast with the rigid appearance of the furniture, the option was taken to create a marble wall with sumptuous lines and texture. This natural stone blends perfectly into the overall design of the home: contemporary, but with a historical touch. 
The polished surface treatment of the stone creates a subtle reflection of the light, further enhancing the spacious effect of the kitchen. The kitchen furniture is constructed in two parts: the worktops with marble upstands and a closet with built-in refrigerator in the extension of the worktop. 
The work surface itself of the worktop was built in white HPL, with the fronts of the furniture in lacquered MDF. 
Low unit with heating
For the work surface on the unit, the client and architect selected the rich Pietra dei Medici Poco Veccio natural stone from Hullebusch.
This travertine surface has a rough appearance created by the Poco Veccio treatment, giving the surface of the stone a subtle weathered and matt look. The stone combines extremely well with the parquet floor and marble used in the kitchen and its rigid lines contribute to achieving the intended balance between the classic and the contemporary. 
The furniture has been designed by the architect to provide three bays, with three doors to left and right opened by a press-button.
The central bay conceals the heating and has a removable panel. The openings above and below allow the heat from the heating to be released. The fronts of the unit are available in white and matt laminate. The shadow joint on the doors break up the rigid white look of the furniture, giving it subtle rhythm. 
As a result of the combination of the sober design of the lower part of the unit and the white wall, the stone can be appreciated in all its glory. 
Built-in cabinets
Every space in the house has been put to good use. For example, the architect has designed these built-in cabinets in the passageway between the living room and eating area. The unusual shape of the existing walls has been overcome with two parallel MDF panels painted in the same white as the walls. The cabinet doors in white laminate have been designed in such a way that they hang in front of the wall to create the effect of a suspended screen. To give the panels a dynamic effect, two of the doors have been sawn off obliquely. This creates a composition on each side through the interplay of shadow and light. 
 
"Working with B-Style went extremely smoothly. We very much appreciated the enthusiasm and perfectionism with which the project was carried out. We are also very pleased with the result."
vanderveeren - roos